Gate HSEQ applications
We have developed the Gate product family in co-operation with our customers for improving occupational safety and quality control in industrial plants, construction sites and properties.
Introduce easy-to-use applications, minimize risks and make efforts for increasing safety visible – no IT project needed.
Gate-applications
What is Gate HSEQ?
Gate is Systems Garden's product family of occupational safety and quality control management applications. Applications work either independently or jointly. They share common background information, such as user management, site registry with maps as well as personal data and competence registry.
Product family consists today of three applications:a:
Gate Work Permits
Used for management of permit related work and the required competencies.
Gate Observations
Used for reporting and processing of safety deviations, initiatives or other observations.
Gate Audits
Used for TR Safety observation method, safety walks, acceptance of work and other documentation needs.
Start with minimum effort and no risk
We developed Gate applications together with our customers to fulfill the workday needs in industrial environments, construction sites, dockyards and properties. As a result you are offered applications that have already been fine-tuned with no excessive IT project to be tackled.
Applications can easily be connected to your own systems for reporting, document management, registration, training and managing competence data.
Number of users is not limited so you can include also subcontractors and contractors with no extra costs. Our application come with 100% satisfaction guarantee.
Make safety measurements visible and effortless!
Integrates to your current system
Gate applications are stand-alone and work on any browser. For additional benefit, they can easily be integrated to a standard Microsoft platform.

Single-sign-on usint Azure AD user accounts. Forget separate passwords and user names. 

All documents integrated to SharePoint -based document management system for archiving purposes.

Extensive and configurable visual reporting using Microsoft Power BI reports.
Work permits and competencies
Grant a permit using cell phone at the work site or in the office using desktop. Make sure that work is not conducted without required competencies. Send permits to workers and require receipt if needed. Number of damages is lower when everybody is updated on where and how work is to be done.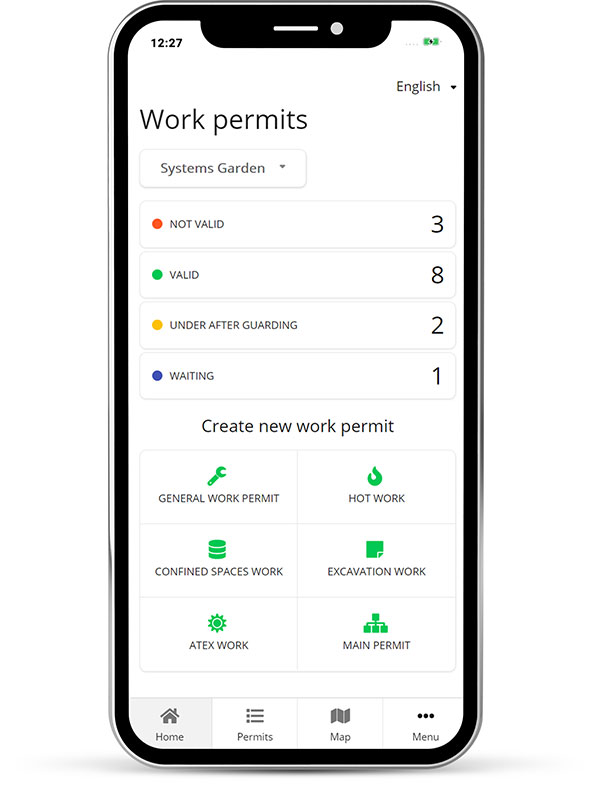 1. GRANT A PERMIT
Grant a permit using cell phone or desktop, take pictures, mark the place of work on map, verify competencies and perform the required risk assessments.
2. SEND TO WORKERS
Send permit to workers and other responsible parties. Ask for receipt if needed.
3. FOLLOW-UP AND GATHER DATA
Real-time view of work status is shown on a map or on a permit list. During work you can record additional information on the permit such as voltage or concentration measurements.
4. ARCHIVE AND REPORT
Keep permits either in the application or move them over to document management. Distribute reports to the team or management.
Safety observations recorded and processed seamlessly
Record observations and process them in one application while in the field. Make right decisions based on reports. Making observations is easy and as the number of observations increases, you see less damages.
1. RECORD
Record your observations, take pictures, enter marks on a map. Notice of your observation is dispatched simultaneously forward in the process, allowing safety measures to be started promptly.
2. PROCESS
Inform others how the deviation has been taken care of, or dispatch the observation to another operator.
3. MARK AS COMPLETED
Mark the task completed and publish the observation.
4. REPORT
Follow the big picture and share reports with team or the management.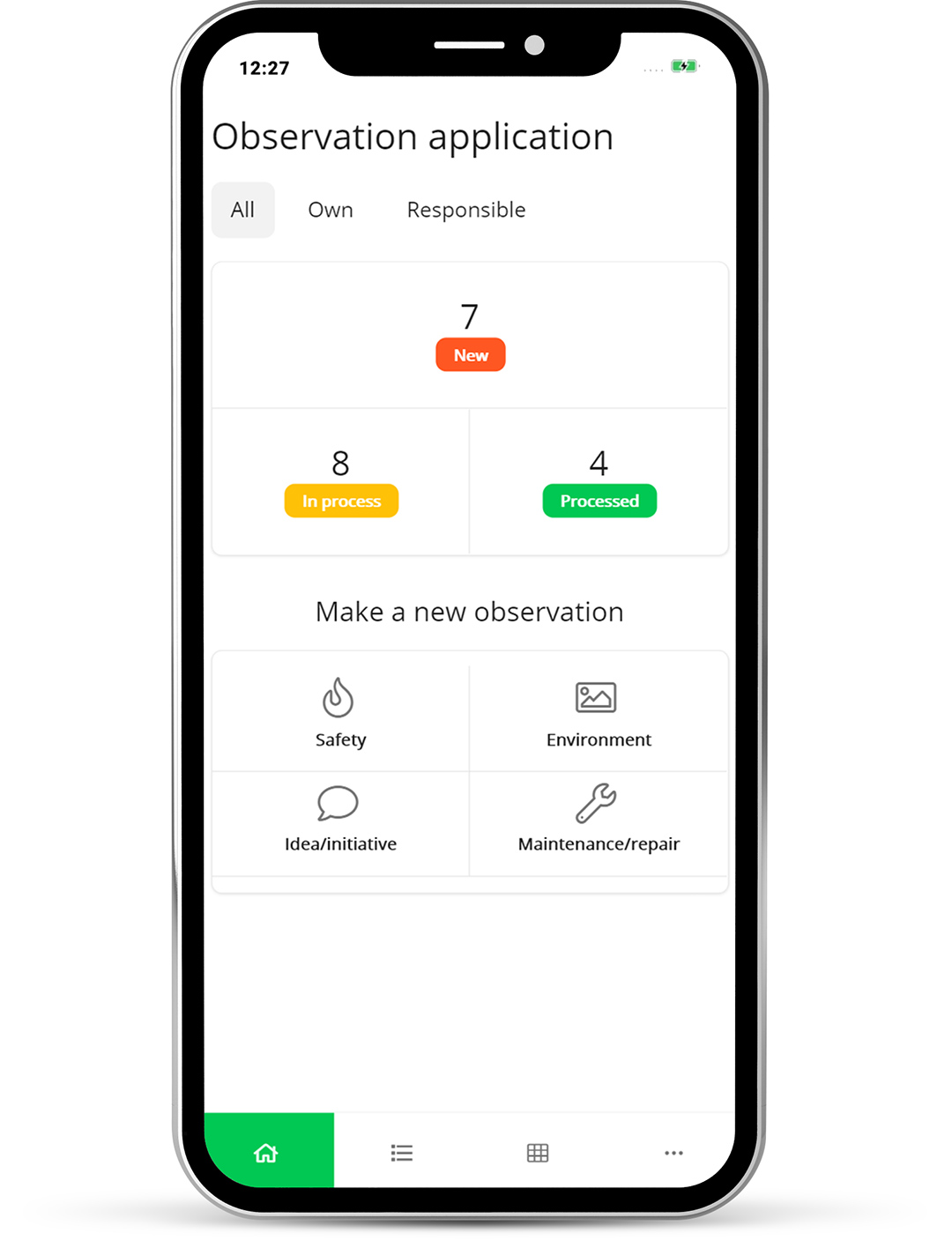 Perform audits in the field, avoid paperwork in the office
Audits and safety walks are performed in the field using an easy tool available likewise for subcontractors and partners. The application will document the walks automatically producing also a nice PDF report for document management.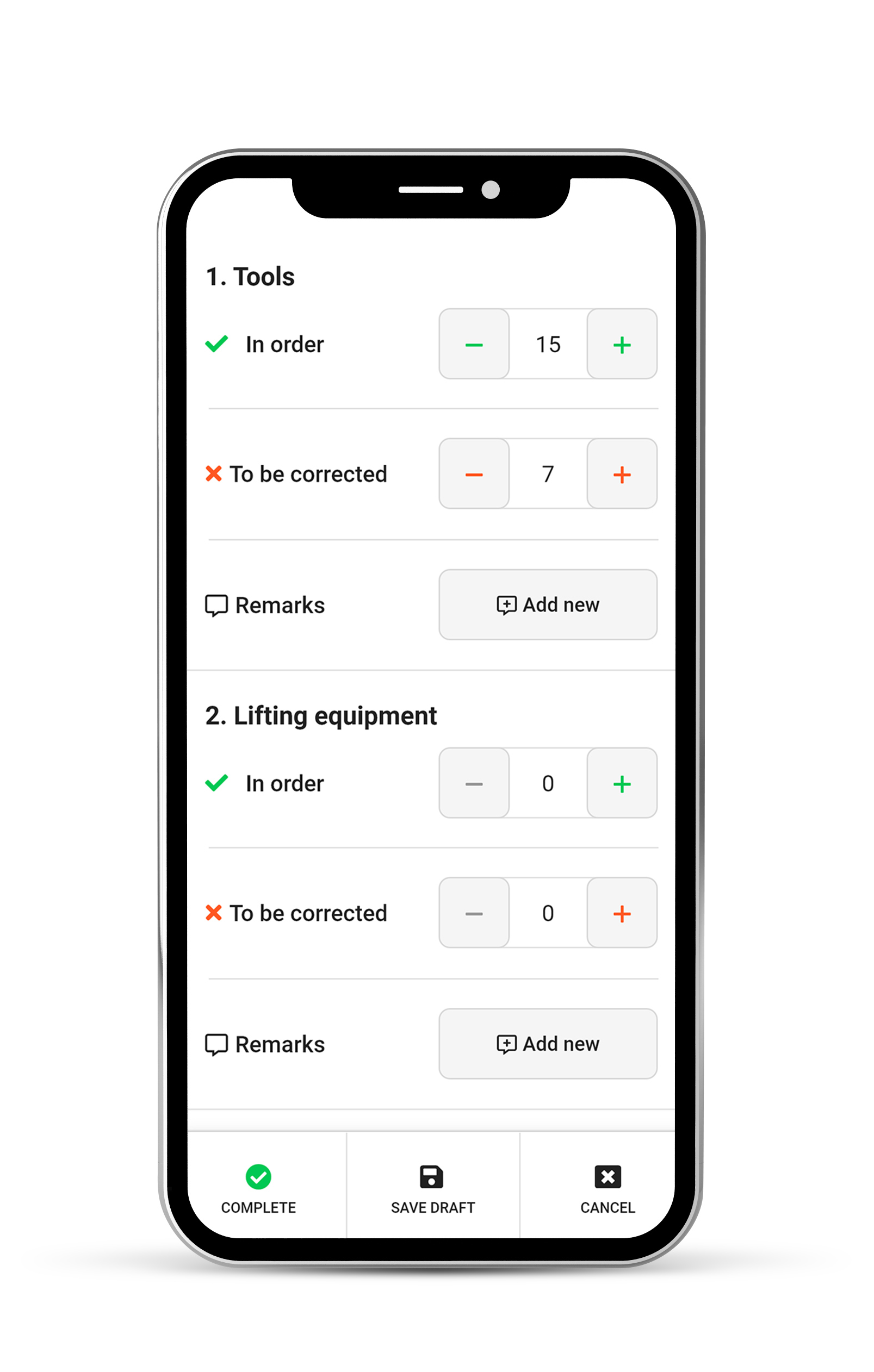 1. CHECK
Record information using cell phone or tablet, take pictures, enter marks on a map.
2. SHARE DEVIATION DETAILS
Record safety observations or other deviations and dispatch them to operators even during the round.
3. DOCUMENT
Produce automatically PDF reports for stakeholders and save them into document management system.
4. REPORT
View data and share reports in a visual form
Interested? Try for free, ask more, or book a demo!
It will not bind you or cost anything. We will not use your contact details for any other purposes or share them further.