YIT Tripla – Real-time safety
Finland´s largest construction company YIT relies on the digital hot work permit solution developed by Systems Garden in one of their largest projects called Tripla. At Tripla construction site the location of ongoing hot works and the permit process are managed in real-time.

Tripla is one of Finland's largest construction projects at the moment with a price tag of 1.3 billion euros. Tripla will be the hub for railroad traffic, a vibrant residential area and a bustling business district as well as one of the largest shopping malls in Finland.
The first phase of Tripla will be completed in fall 2019, with the inauguration of the new railroad station and shopping center. In the spring of 2020 a new hotel and office premises will be built on the next level. Tripla is to be finalised in 2021 along with handing over of new apartments.
The tight schedule does not allow any delays, so the workforce on site is up to 1,800 workers.
Safety and security measures require detailed planning and control with workforce of this size.
"In case of any major incident, consequences would inevitably be extensive," says Erno Martin, Safety Manager for YIT Tripla. YIT is the largest construction company in Finland.
Martin states that for a construction project both reaching high in the sky and digging deep underground, one of the biggest single risks is a fire break.
"In case of a serious fire incident on site, it would be nearly impossible to finish the project on time. In the worst case there might even be human casualties."
For this reason the management of hot works at Tripla site has a strong emphasis. By definition hot work covers all situations with any chance of fire. So, in addition to welding work or the use of blast pile, also metal grinding may cause sparks and is considered hot work.
Fire workers must acquire an official hot work license through training. Hot work license is issued for five years at a time.
"A valid hot work license and hot work permit are an absolute prerequisite for performing any hot works at Tripla site. The validity of the permit is checked in the solution" Martin says.
Hundreds of hot work permits are managed at Tripla site. Traditionally, hot work permits have been in document format. Martin tells they were typically collected in folders, and stored in office quarters on the construction site.
"Locating and accessing the permits was tricky and slow, especially in case of a prompt need to find a permit. While we are erecting buildings of over 12 stories high, we are required to know of the whereabouts of both ongoing hot works and professional firemen/hot work performing men at all times."
Real-time solution
Systems Garden designed and implemented an electronic hot work permit solution for the Tripla project. The solution enables the Tripla project management to file valid fire licenses  electronically. The application keeps track of hot works in progress and workers involved, along with risk factors and fire guarding. The system thus provides a real-time situational overview of location and performers of hot works at Tripla site.
"One of the biggest benefits of using the mobile platform is that a permit to work on the premises can be issued on the spot. In addition, we can stay sure of the validity of the hot work permits all the time."
The solution designed and delivered by Systems Garden is the first of its kind in Finland, and among the first even on global scale. Due to the novel approach to managing permits, Martin sees that the digital hot work permit solution introduces new project management capabilities to manage workflows and security on a construction site.
"For example, the workers are able to document hot work surroundings with their smartphones, which adds an extra layer of safety."
Martin anticipates that YIT will be using the solution also in other major construction projects in the future.
"We've been using the solution for two years now. On mobile platform everything is just so much faster and easier."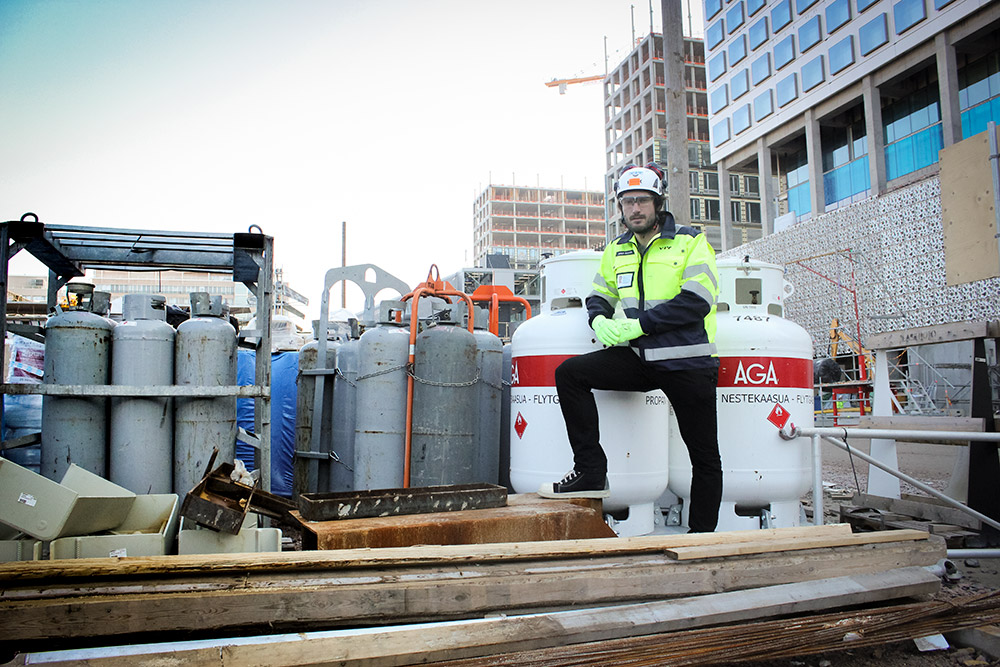 "One of the biggest benefits of using the mobile platform is that a permit to work on the premises can be issued on the spot. In addition, we can stay sure of the validity of the hot work permits all the time."

Interested? Contact us!
Contact us to set up a date for meeting. Let's see what kind of solution suits your company.